Systems for Schools and Universities
Nelson and Pade, Inc.® works with schools and Universities around the world by supplying our Clear Flow Aquaponic Systems® for both education and research applications!  Currently, we have shipped systems to hundreds of schools and Universities in the United States and 25 other countries.  We provide assistance, documentation, curriculums and grower support so that educators can focus on what matters…successfully implementing an aquaponics program to educate their students.
Aquaponics in Schools
Aquaponics is an excellent means of demonstrating many principles of science, agriculture, math and business in all grade levels and for home schooling. Applications of these technologies are only limited by ones imagination.  In addition to the plant sciences, aquaponics incorporates and demonstrates many of natures natural cycles, nitrification, biology, fish anatomy and nutrition and high-tech agriculture. A unit in aquaponics enforces practical uses of chemistry, mathematics, physics, economics and engineering. The monitoring and care of an aquaponic system by students helps instill a sense of responsibility, inspires creativity and creates excitement in the learning environment.
A unit in aquaponics can be started at the beginning of a semester and run through the entire semester, allowing the educator to present the individual concepts and lessons as the plants and fish develop and grow.
Give your students the opportunity to explore a new career field. 
Aquaponics is a growing industry that needs an educated workforce.  The University of Wisconsin-Stevens Point now offers courses in aquaponics and an Aquaponic Certificate program.
Dean Longhofer, Flagler College Enactus, comments: "We acquired the system early this year and already we are seeing tremendous results. We chose a Nelson and Pade system because it was highly recommended for its efficiency and its quality. This system has taught Flagler College and Flagler College Enactus the science of  aquaponics through its hands-on experience. Because Nelson and Pade takes time to create high quality products, we were able to produce high quality plants."
Attention Educators:
FREE Comprehensive Curriculum Package for Schools
who purchase our Clear Flow Aquaponic Systems®
Four Great Systems for Schools: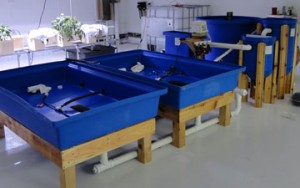 The F-5 is a fantastic system for the beginner or anyone who wants to set up a small but highly productive aquaponic system. An F-5 can annually produce 110 lbs of fish and 900-1440 heads of lettuce, other leafy crops or a variety of vegetables such as tomatoes, beans, cucumbers and more. The F5 has a single 110-gallon fish tank to save on space and 2—3' x 5' plant grow beds.  The F5 is a great system for a beginner and makes an ideal classroom aquaponic system.
The Home Garden will seriously supplement your family's food supply, with over 200 lbs of fish and 1,350—2,160 heads of lettuce or lots of other fresh veggies every year. This is a great choice for an educator who wants to get started in aquaponics. The Home Garden is a classic aquaponic raft system that has 2—110 gallon fish tanks.  The Home Garden has 3—4' x 6' plant grow beds.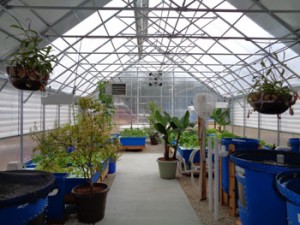 The Family Plus is great for food production and big enough that you'll likely have extra to share or sell as a school fund-raiser. Like the Home Garden, the Family Plus is a raft aquaponic system. It has four fish tanks. But, it is twice as big as the Home Garden! It can annually produce 460 lbs. of fish and 2,700 – 4,860 heads of lettuce (or other vegetables).  The Family Plus has 4—110 gallon fish tanks and 6—4' x 6' plant grow beds.
The Family Farm Market is capable of annually producing 860 lbs. of fish and 6,900—11,500  heads of lettuce (or other vegetables), enough to provide fresh fish and vegetables, with extra to sell at a farm stand or local farm market.   The Family Farm Market has 4—200 gallon fish tanks and 12—4' x 6' plant grow beds.
We offer complete greenhouse packages for all of our Clear Flow Aquaponic Systems®
System Description
Home Food Production systems include:
Complete Clear Flow Aquaponic System® – proven, science-based design includes fish tanks and all filter tanks, tank drains, the raft tanks and rafts (cut and drilled),  hand-crafted cedar tank stands for all fish, filter and raft tanks (stand assembly required), water pump and plumbing, gate valves and true union ball valves, air blower, aeration system and air diffusers, fish net, starter supply of grow cubes.
Documentation and technical support:
Aquaponic Food Production (RL Nelson) and Aquaponics Q and A books (J Rakocy)
Assembly Manual and Operation Manual including SOP's (Standard Operating Procedures)
Assembly and Grower Tech support (4 hours via email). Additional tech support available
---
What else do you need?
We offer optional equipment and growing supplies. This includes everything from grow cubes and water testing equipment to a complete controlled environment greenhouse.
---
Students
If you want to setup an aquaponic system for a science project, we've written a booklet just for you, Desktop Aquaponics.