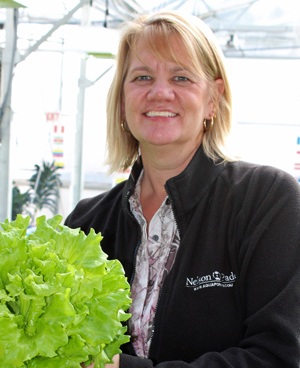 Entrepreneur, Author, Educator Specializing in Aquaponic Food Production
"I truly believe that aquaponics has the potential to change the face of agriculture while increasing the availability of fresh, nutritious food for people around the world." Rebecca Nelson
About Rebecca
Rebecca Nelson is co-founder and co-owner of
Nelson and Pade, Inc.
®, the global leader in
aquaponic systems
and
training
, and she is an adjunct instructor for the University of Wisconsin-Stevens Point. Rebecca is the author of the first and primary book on aquaponics,
Aquaponic Food Production
, and is the editor of the
Aquaponics Journal®
, published continuously from 1997-2013. Rebecca writes the curriculums for and teaches in Nelson and Pade, Inc.®'s
Aquaponics Master Classes®
and guides the company's media and advertising efforts. Rebecca is a featured authority on local and national radio, TV, magazine and newspaper coverage of aquaponics. Most recently, she appeared on TV in both Madison, WI and Belize, Central America and she was quoted in Delta Airlines Sky Magazine in a feature on aquaponics.
Accomplishments
2018 Invited Speaker:

Seeds and Chips, The World's Leading Food Innovation Summit, Milan, Italy, May 7-10, 2018. Watch the Presentation
Indoor AgCon, Las Vegas, May 2-3, 2018

2015 Invited to join the NZ4 Global Alliance, an organization dedicated to sustainability for the future.
2014-2015 Aquaponics Advisory Council, Certified Naturally Grown
2013 – Appointed Board Member, WI Aquaclture Industry Advisory Council
2012 – Appointed Adjunct Instructor – University of Wisconsin – Stevens Point
2009-2015 – Taught aquaponics to students from 85 countries +50 U.S. states
2009 – Awarded Agri-business of the Year (Nelson and Pade, Inc.®)
2008 – Author, "Aquaponic Food Production" book
2006 – 2012 – Co-development of Clear Flow Aquaponic Systems® and ZDEP® Aquaponic Systems
2006–2018 – Featured aquaponics authority on local and national media
2003 –  Author, "Introduction to Aquaponics" video
1998-2013 – Invited speaker on aquaponics at International conferences
1997-2013 – Editor and publisher of Aquaponics Journal®
1996-1998 – Author, Aquaponics and hydroponic school curriculums
1984-Present – Entrepreneur and innovator
Featured Speaker /Conference Presentations
2019
2018
2017
2016
2015
WI Department of Agriculture, Trade and Consumer Protection: Board Meeting, October, 2015
University of Wisconsin – Board of Regents Meeting
Wisconsin Association of Agricultural Educators, June 23, 2015
Mother Earth News Fair, West Bend, WI, Aug 8-9, 2015
Wisconsin Aquaculture Association Annual Conference, Marshfield, WI, March, 2015
2014 – WI TOPS Annual conference, Keynote Speaker
2014 – Wisconsin Aquaculture Annual Conference, Invited Speaker
2014 – Confluence Philanthropy conference, Sante Fe, NM
2013 – International Aquaponics Conference, Invited Speakers, UWSP
2013 – Natural Products and Organic Food Expo, Oshkosh, WI
2013 – Winter Green Conference, Invited Speaker, Kenosha, WI
2013 – World Aquaculture Conference, Keynote Speakers,Nashville, TN
2013 – International Conference on Soilless Culture, Toluca, Mexico
2013 – WI Aquaculture Association Conference
2012 – Intl Conference on Aquaculture and Aquaponics, Cancun, Mexico
2011 – Aquaculture America, New Orleans, LA
2011 – Wisconsin Aquaculture Association Annual Conference
2011 – Wisconsin Society of Science Teachers Conference
2010 – International conference on Soilless Culture, Singapore
2010 -7th International Conference on Hydroponics, Toluca, Mexico
2010 -Midwest Recirculating Aquaculture Workshop, Bayfield, WI
2009 – present – Aquaponics Master class, Montello, Wisconsin
2010 – Midwest Recirculating Aquaculture Workshop, Wisconsin
2009 – International Conference on Soilless Culture, Costa Rica
2008 – Aquaponic and Aquaculture Conference, Guadalajara, Mexico
2008 – 6th International Conference on Hydroponics, Toluca, Mexico
2007 – Intl Conference on Soilless Culture, San Jose, Costa Rica
2006 – 5th International Conference on Hydroponics, Toluca, Mexico
2004 – Aquaponics Seminars and Speaking Tour, Brisbane, Australia
2004 – 4th International Conference on Hydroponics, Toluca, Mexico
2004 – Science Alive Conference, Tucson, Arizona
2003 – Science Alive Conference, Tucson, Arizona
2002 – Science Alive Conference, Tucson, Arizona
2001 – Hydroponic Grower's Conference, Orlando, Florida
1999 – California Science Teachers Association, Long Beach, CA
1998 – Hydroponic Society of America Conference, Universal city, CA
1998 – Hydroponic Merchants Association conference, San Jose, CA
1998 – Aquaponics Training Workshops, Mariposa, California, USA