Nelson and Pade, Inc.® Donates Tilapia for Skin Grafts on Injured Dog in Minnesota
On Friday, February 7th, Nelson and Pade, Inc.® Co-founder and Co-owner Rebecca Nelson, along with Chief Operations Officer, Jannel Dunn, were honored to be able to provide whole tilapia for an injured dog as part of an emerging medical procedure that uses tilapia skin as a biological bandage, providing better and faster healing from burns and other skin issues. Tilapia skin is higher in moisture and collagen proteins than human skin and it naturally helps promote the healing process.
Rescued Pets Are Wonderful (RPAW) is a nonprofit group of volunteers located near the Twin Cities in Minnesota. RPAW is completely volunteer-based and relies on donations and adoptions fees to continue its mission; taking in stray or abandoned animals and provide them with the medical attention that they need and to ultimately find loving homes for them.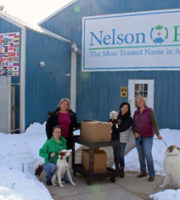 Back in December 2019, RPAW founder, Liz Gigler, took on a case in the middle of the night in which a dog named Petey was run over by a skidsteer. Petey was left with a broken leg and all of the skin torn from his back. Petey has 3 different severe bacterial infections in the wound that are being treated. He also has a wound vac that he wears to increase healing and decrease fluid collection.
Tilapia skins have recently been used in California and Australia to treat wild animals burned in wildfires. The skins are treated with sterilizing agents and used as bandages. They are stitched onto the healthy tissue surrounding the burns after the area is cleaned. This procedure resulted in faster healing and recovery. This procedure is an incredible new medical application using a product, the tilapia skin, that would otherwise be considered waste.
Veterinarians in that work with RPAW in Minnesota will apply the tilapia skins donated by Nelson and Pade, Inc. ® to Petey to help heal his wounds and restore the skin on his back.  
You can follow Petey's and his journey on Facebook: https://www.facebook.com/peteyfishdog/