We Supply Everything You Need
Nelson and Pade, Inc.® offers everything you need to get started and become successful in a commercial aquaponics venture.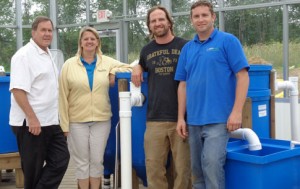 Proven Systems and Methods
Patented Clear Flow Aquaponic Systems® with ZDEP® are highly efficient and dependable aquaponic systems that maximize production while eliminating waste.  All commercial Clear Flow Aquaponics Systems® come with detailed operation manuals and Standard Operating Procedures.
Additionally, Nelson and Pade, Inc.® offers the NP Series Greenhouses, the first greenhouse designed with food safety in mind. These engineered controlled environment greenhouses can be designed for any climate, using energy efficient components, pest exclusion and bio-security features, provides the ideal environment as well as full crop protection for the elements, pests and pathogens.
Comprehensive Training
The Aquaponics Master Class® and the Extended Stay Learning Program provide the knowledge and confidence needed to move forward in commercial aquaponics food production. Taught by experts and in partnership with the University of Wisconsin-Stevens Point, these courses are comprehensive, well organized and fun!
Long Term Grower Support
The Nelson and Pade Grower Program helps aquaponic growers get off to a great start, continuously access valuable information and updates and creates recognition and networking opportunities for each grower in the program.  The Nelson and Pade Grower Program is available to aquaponic growers using Nelson and Pade, Inc.® Clear Flow Aquaponic Systems®