2016 Photo and Video Contest Winners!
Our third annual 'Show Us Your System' Photo & Video contest yielded a fantastic response. Our staff truly enjoyed viewing all of the videos and photos that were submitted. We were challenged to pick the winners because we received so many great entries!
Congratulations Nelson and Pade growers on all of your great successes. We are already looking forward to next years entries!
GRAND PRIZE:
Front Porch Pets – Wild Rose, WI
($1000 Nelson and Pade Gift Certificate)


2nd Place Video:
Robin Hills Farm – Chelsea, MI
($500  Nelson and Pade Gift Certificate)
3rd Place Video:
Native Oklahoma Aquaponic Harvest (NOAH) – Vian, OK
($250  Nelson and Pade Gift Certificate)
Watch the Video
1st Place Photo:
Cathy & Bill Moon – Apex, NC
($300  Nelson and Pade Gift Certificate)
Our system has been up for about 2.5 years. We currently produce 5 types of lettuce, a variety of herbs and 4 types of peppers. We use the system water to grow potted citrus, banana and olive trees as well as pineapples and ginger. The majority of our tilapia is donated to organizations that hold community dinners for those in need.
2nd Place Photo:
Canton STEM Academy – Canton, GA
($150 Nelson and Pade Gift Certificate)
Elementary explorations into aquaponics. These students as part of their science instruction, grew these plants from seeds and then transplanted them into the F5 system.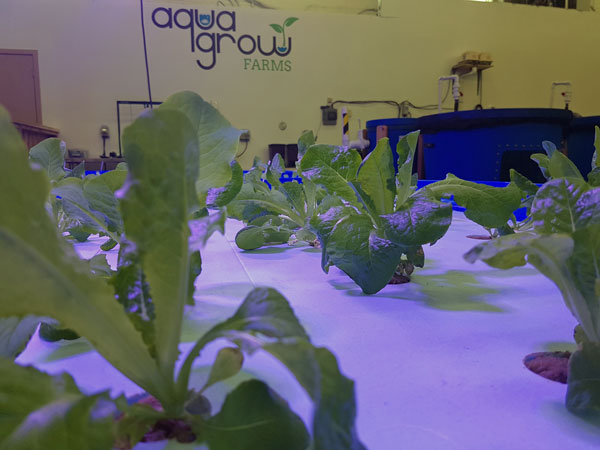 3rd Place Photo (pictured above):
The Mississauga Food Bank, Mississauga, ON, Canada
($75  Nelson and Pade Gift Certificate)
We submitted this photo because it illustrates several goals we had when approaching Nelson and Pade with our vision for an aquaponics farm in the middle of an operational warehouse. First, we wanted to increase the amount of fresh fish and produce being offered to those who are in need within Mississauga. Another goal of ours was to help educate the community about urban agriculture and increase awareness about food security issues in urban areas. Overall, we may be a smaller set-up, but as this picture shows, we're already making a big impact in our community with our new Home Garden system!