Home Systems
Nelson and Pade, Inc.®'s Home Food Production systems use the same science-based design, component ratios and water flow dynamics as our commercial systems. They are just smaller.  Our Home Food Production systems are a great way to learn the concepts and daily operation of aquaponics, while growing fresh fish and vegetables for your family.   The individual filter tanks demonstrate all of the scientific principles of aquaponics, make operation easier and increase productivity. The multi fish tank design allows you to sequentially stock fish of the same size in each tank, resulting in regular harvests of fish and continuous harvests of vegetables.
Our Clear Flow Aquaponic Systems® provide lots of fish and veggies for home food production, education and demonstration applications. Starting with the F5 (Fantastically Fun Fresh Food Factory) the Home Garden, Family Plus and Family Farm Market, we cover all the bases as far as sizes, production levels, options and methods. With our innovative filtration systems, the annual output of fish and vegetables from these systems is very high for the space, investment and effort. Growing your fresh fish and vegetables in our Clear Flow Aquaponic Systems® will reduce your dependency on buying food from the grocery store and will provide you with high quality fish and vegetables that are free of chemicals, pesticides, growth hormones and antibiotics.
Plus, our systems are clean and tidy, so you won't have any messy soil or media and, thanks to our biological filter tanks, the water will smell fresh, not fishy.
Grow diverse crops
We use tilapia and lettuce as the examples in our production numbers but you are by no means limited to these crops. We have grown all kinds of vegetables in our Clear Flow Aquaponic Systems® including cucumbers, beans, peas, tomatoes, peppers, corn, radishes, beets, kohlrabi, cabbage, lettuce and greens, herbs, broccoli and more!
Everything you need
Our complete system packages include everything you need to get started growing food in aquaponics. We have designed these systems for people who want to get growing instead of spending time sourcing parts, designing, redesigning, experimenting and reinventing. We have done the hard part for you.
Customer, Alice Hill, Kanses, comments: "I wanted to let you know we've made good progress on our demonstration greenhouse and Home Garden system. The last few days we've been dry fitting the tanks & rafts together. It is actually fun – following the alphabet clues and your very clear instructions. It is wonderful to see this long held dream come into reality. The system has been very user friendly. Thank you for all the years of perfecting this system so that Jeff and I didn't have to reinvent a wobbly wheel."
Four Great Systems for Home Food Production: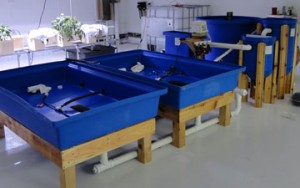 The F-5 is a fantastic system for the beginner or anyone who wants to set up a small but highly productive aquaponic system. An F-5 can annually produce 110 lbs of fish and 900-1440 heads of lettuce, other leafy crops or a variety of vegetables such as tomatoes, beans, cucumbers and more. The F5 has a single 110-gallon fish tank to save on space and 2—3' x 5' plant grow beds.  The F5 is a great system for a beginner and makes an ideal classroom aquaponic system.
The Home Garden will seriously supplement your family's food supply, with over 200 lbs of fish and 1,350—2,160 heads of lettuce or lots of other fresh veggies every year. This is a great choice for a family who wants to get started in aquaponics. The Home Garden is a classic aquaponic raft system that has 2—110 gallon fish tanks.  The Home Garden has 3—4' x 6' plant grow beds.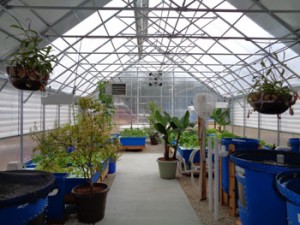 The Family Plus is great for home food production and big enough that you'll likely have extra to share with friends or family. Like the Home Garden, the Family Plus is a raft aquaponic system. It has four fish tanks. But, it is twice as big as the Home Garden! It can annually produce 460 lbs. of fish and 2,700 – 4,860 heads of lettuce (or other vegetables).  The Family Plus has 4—110 gallon fish tanks and 6—4' x 6' plant grow beds.
The Family Farm Market is the largest of the Home Food Production Systems, capable of annually producing 860 lbs. of fish and 6,900—11,500  heads of lettuce (or other vegetables), enough to provide fresh fish and vegetables to a family, with extra to sell at a farm stand or local farm market.  The Family Farm Market system is a great way for a family to begin their aquaponics venture.  The Family Farm Market has 4—200 gallon fish tanks and 12—4' x 6' plant grow beds.
We offer complete greenhouse packages for all of our Clear Flow Aquaponic Systems®
System Description
Home Food Production systems include:
Complete Clear Flow Aquaponic System® – proven, science-based design includes fish tanks and all filter tanks, tank drains, the raft tanks and rafts (cut and drilled),  hand-crafted cedar tank stands for all fish, filter and raft tanks (stand assembly required), water pump and plumbing, gate valves and true union ball valves, air blower, aeration system and air diffusers, fish net, starter supply of grow cubes.
Documentation and technical support:
Aquaponic Food Production (RL Nelson) and Aquaponics Q and A books (J Rakocy)
Assembly Manual and Operation Manual including SOP's (Standard Operating Procedures)
Assembly and Grower Tech support (4 hours via email). Additional tech support available
If you are interested in starting with a Home Food Production Systems and then later graduating to commercial production, you might consider starting with one of our aquaponic fish nurseries.
———————————————————————————–
What else do you need?
We offer optional equipment and growing supplies. This includes everything from grow cubes and water testing equipment to a complete controlled environment greenhouse.
System Specification Matrix
| | F5 | Home Garden | Family Plus | Family Farm Market |
| --- | --- | --- | --- | --- |
| | | | | |
| Lettuce Production | 900-1440 heads/year (17-27 heads/week) | 1350 – 2160/year (26-41/week) | 2700 – 4860/year (50-90/week) |  6,900 – 11,500/year |
| Fish Production | 110 lbs/year | 215 lbs/year | 460 lbs/year |  860 lbs./year |
| Footprint | 15' x 20' = 300 sq. ft | 15' x 32' = 480 sq. ft. | 24' x 44' = 1,056 sq. ft. |  24′ x 56′ = 1,344 sq. ft. |
| Estimated Labor/day | .5 – hour/day | 1-2 hours | 2-3 hours |  4-6 hours |
| Electrical requirements | 2.4 amps @ 120V, 24/7 | 2.4 amps @ 120V, 24/7 | 2.8 amps @ 120V, 24/7 |  6.7 amps @ 120V 24/7 |
| Base price | $2,995 | $6,895 | $12,995 |  $19,995 |
| Palleting Charge | $225 | $325 | $425 |  $525 |
Explanations
Lettuce Production
The low end of the range is for a system set up under natural, seasonal light and with minimal efforts. The high end of the range is for a system setup under optimum light levels and proper environmental conditions. Results may vary.
Fish Production
Based on raising Nile tilapia, stocked at 50 gram fish and harvested at 1.5 lbs. Results may vary. Displayed in pounds of whole fish. Fillets are about 1/3 of this.
Footprint
This is the space the standard system configuration fits within, with room to walk and work around it. This will be the size of the greenhouse or building that you put the system in. If you have special space requirements, we can design the system to fit, but a custom design fee will apply.
Estimated labor/day
This is the number of hours we estimate that it will take to maintain the system, feed the fish and seed, transplant and harvest the crops.
Electrical requirements
This is for the aquaponic system itself. It does not include electrical requirements for a greenhouse, water heaters, fans, cooling or other equipment that might be used.
Base price
The base price of our systems includes everything in the description below. It does not include sales tax, shipping or optional equipment.
Palleting charge
This charge covers the cost of time and materials for packaging, palletizing and preparing systems for freight shipment.
Optional Equipment The Clear Flow Aquaponic System® is the centerpiece of your aquaponics venture, but you will need other equipment to make it a business.  Check out our selection of Optional Equipment.