F-5 (Fantastically Fun Fresh Food Factory)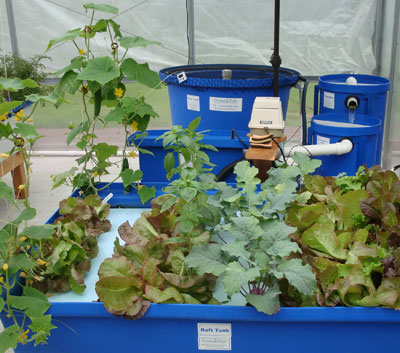 The F-5 is a fantastic system for the beginner or anyone who wants to set up a small but highly productive aquaponic system. An F-5 can annually produce 110 lbs of fish and 900-1440 heads of lettuce, other leafy crops or a variety of vegetables such as tomatoes, beans, cucumbers and more. The F5 has a single 110-gallon fish tank to save on space and 2—3' x 5' plant grow beds.  The F5 is a great system for a beginner and makes an ideal classroom aquaponic system.
Complete Clear Flow Aquaponic System® – proven, science-based design includes one fish tanks and all filter tanks, tank drains, the raft tanks and rafts (cut and drilled),  hand-crafted cedar tank stands for all fish, filter and raft tanks (assembly required), water pump and plumbing, gate valves and true union ball valves, air blower, aeration system and air diffusers, fish net, starter supply of grow cubes.
Documentation and technical support:
Aquaponic Food Production (RL Nelson) and Aquaponics Q and A books (J Rakocy)
Assembly Manual and Operation Manual including SOP's (Standard Operating Procedures)
Assembly and Grower Tech support (4 hours via email). Additional tech support available
F-5 Fantastically Fun Fresh Food Factory
Estimated* lbs. of fish
*Estimated pounds of fish is based on raising Nile Tilapia, under optimum conditions.
110 lbs/year
Estimated* number of heads of lettuce/greens
*The amount of vegetables you will grow is dependent on climate, management, the amount of environmental control you have and whether you are using grow lights. Growing in a controlled environment greenhouse with high intensity grow lights will yield the best results. We have used lettuce as an example because it is commonly grown in aquaponics. Most other greens such as collards, chard, bok choi and herb varieties such as basil, chives and cilantro, can be grown using the same plant spacing. Other crops, such as tomatoes, eggplant, melons, beans, cucumbers, etc., can be grown using the appropriate plant spacing.
900 – 1440/year
17 – 27/week, average
Size of vegetable grow bed (raft)
2 – 3′ x 5′
90 plant sites (spacing for lettuce or greens)
Number and size of fish tanks
1 – 110 gallon fish tank
Approximate space required:

If you have limited space, you can order this system with one grow bed instead of two.

12′ x 20′, 240 sq. ft.**Does not need to meet this size exactly
Estimated amount of time required/day
For feeding fish, maintaining filters, seeding, transplanting and harvesting
.5 – 1 hour
Electrical Requirements call
2.4 amps @120V 24/7
Package Cost
$2,995
Crating Fee (if shipping via motor freight)
$225
See the optional equipment list for growing supplies, test kits, monitoring systems, tank heaters and more.