Clear Flow Aquaponic Systems®
Maximize your production of fish and vegetables!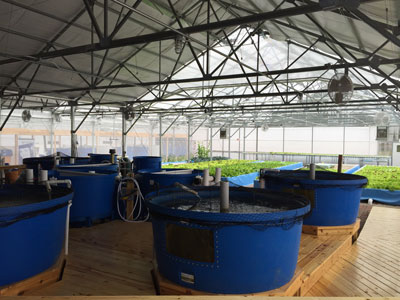 Nelson and Pade, Inc.®'s Clear Flow Aquaponic Systems® have been designed based on scientific research and 20+ years of development, refinement and operation. Clear Flow Aquaponic Systems® produce higher quality fish and vegetables with increased production over other systems. The water flowing through the system is nutrient-rich, but clear, providing bio-security and food safety. The plant roots are bright white and clean and the fish are raised in fresh, clear water.
Customer, David Hamlin, comments, "With Nelson & Pade, you get excellent access to leaders of the industry, timely comprehensive answers to your questions, a superb staff and a system without equal. If you want to get involved with aquaponics, contacting Nelson and Pade should be at the very top of your list."
Complete Aquaponic System Packages
These complete system packages are available for all applications including:
All systems come with technical support and very thorough manuals which incude Standard Operating Procedures (SOPs) for all daily tasks. Commercial systems also include a Good Agriculture Practices (GAP) manual template and safe food handling guidelines.
NP Greenhouses
Nelson and Pade, Inc.® provides complete greenhouse packages for all models of our Clear Flow Aquaponic Systems®.  Each NP Greenhouse is designed with food safety, bio-security, energy efficiency and maximum environmental control in mind.
Learn more
Proven Designs
By purchasing one of Nelson and Pade, Inc.®'s proven Clear Flow Aquaponic Systems®, you will avoid the high costs and problems associated with untested systems and home-built efforts. Each of the system components are sized and designed to provide maximum production, proven component ratios, water flow parameters, water quality and nutrient dynamics.
Increase Production
In a development that brings aquaponics to a whole new level of food production, Nelson and Pade, Inc.® offers highly productive commercial systems using their patented Clear Flow Aquaponic Systems® with ZDEP® (Near Zero Discharge Extra Production). Nelson and Pade, Inc.®'s accelerated nursery system combined with the patented ZDEP® method of aquaponics has nearly 8-times the vegetable production over the University of the Virgin Islands raft system. Plus, nearly all water and waste from the system can be fully used, reducing or eliminating discharge.
Efficient, Sustainable, Dependable

Nelson and Pade, Inc.®'s Clear Flow Aquaponic Systems® are the most productive, efficient, sustainable and dependable aquaponic systems for producing fresh fish and vegetables, all in one integrated system that requires a minimum of water, labor and energy.
Made in the USA
Our system packages are made of the highest quality components, food-grade (or equivalent) tanks and liners, high efficiency water and air pumps, and include all plumbing and aeration components. They are 90% made in the USA.
Read comments from people using our patented Clear Flow Aquaponic Systems® with ZDEP® 
Greenhouses
Nelson and Pade, Inc.® offers our high-quality NP Greenhouses to house our Clear Flow Aquaponic Systems®.
NP Greenhouses
Optional Equipment
The Clear Flow Aquaponic System® is the centerpiece of your aquaponics venture, but you will need other equipment to make it a business.
Check out our selection of Optional Equipment.